Over 100 supporters attending the official book signing of Margaret Worrall's just release
The Maryland Hunt Cup
Celebrating 125 Years.
The event gave attendees the opportunity to meet and chat with winning jockeys and trainers featured in the book, and gather autographs from those and writer Margaret Worrall.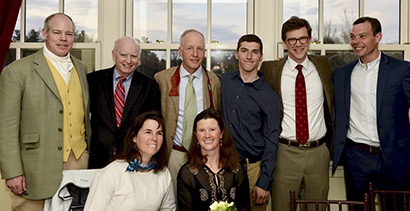 Winning jockeys George Hundt, Joe Davies, Eric Poretz, James Stierhoff, Mark Beecher, Blythe Miller Davies and Blair Waterman Wyatt surround photographer Douglas Lees, whose photos are featured in the book
(photo by Betsy Manierre)
. Also in attendance at the party were trainers Todd Wyatt, Charles Fenwick Jr. and other horsemen who were interviewed for the book.